REVIEW ANIME : SAKURA QUEST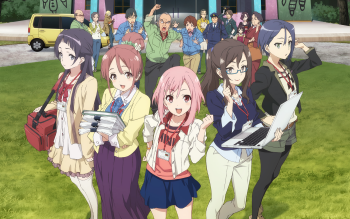 TYPE OF ANIME :
TV
EPISODE :
UNKNOWN(2 EP)
STATUS :
CURRENTLY, AIRING.
AIRED :
APR,6,2017 TO ?
PREMIERED :
SPRING 2017
BROADCAST :
THURSDAY AT 00:00(JST)
PRODUCERS :
AT-X HOUBUNSHA TOHO ANIMATION BS11 ABC ANIMATION SONY(PCL)
LICENSORS :
FUN MATION ENTERTAINMENT
STUDIOS :
P.A. WORKS
SOURCE :
ORIGINAL
GENRES :
COMEDY
DURATION:
23 MIN
RATING :
PG 13 OR OLDER
PLOT :
YOSHINO KOHARU IS 20 YEARS GIRL LIVE IN TOKYO TO LOOKING A JOB.
BUT SHE ALWAYS BE REJECTION,
HOWEVER SHE HAS A SEEMING LUCKY BREAK WHEN SHE RECEIVES A JOB OFFER WORK WITH TOURISM BOARD OF THE ECONOMICALLY STRUGGLING MENOYAMA VILLAGE AS THEIR "QUEEN". BUT SHE NO HAVE CHOICE YOSHINO ACCEPTS THE OFFER AND TRAVELS TO MANOYAMA ONLY TO FIND OUT. SHE WAS HIRED ON BASED ON A CASE OF MISTAKE IDENTITY AND CONTRACT TERM IS ONE YEAR INSTEAD OF THE ONE DAY SHE HAD INITIALLY THOUGHT. WITH NOWHERE ELSE TO GO, YOSHINO RELUCTANTLY BECOME QUEEN OF MANOYAMA.
CHARACTERS :
YASHINO KOHARU VOICED BY AYAKA NANASE
THE MAIN PROTAGONIST. SHE GROW UP IN RURAL AREA NI JAPAN AND WANT TO COLLEGE IN TOKYO IN HOPES OF LANDING A JOB IN THE CITY. BUT AFTER FAILING TO LAND A JOB SHE GETS AN OFFER TO WORK FOR TOURISM DEPARTMENT OF MANOYAMA VILLAGE.
SHINOMIYA SHIORI VOICED BY REINA UEDA
A NATIVE OF MANOYAMA AND MEMBER OF THE TOURISM BOARD, SHIORI FRIENDLY AND KIND HEARTED GIRL WHO WANT TO SEE TOWN IMPROVE AND ACTS AS YOSHINA'S GUIDE.
MIDORIKAWA MAKI VOICED BY CHIKA ANZAI
AN AMATEUR ACTOR AND LOCAL CELEBRITY IN MANOYAMA, MAKI IS FAMED FOR A SHE PLAYED IN TELEVISION SERIES CALLD THE ODEN DETECTIVE.
ORIBE RIRIKO VOICED BY CHIEMI TAKANA
RIRIKO IS THE DAUGHTER OF THE LOCAL SWEET SHOP OWNER AND FAN TO THE OCCULT.
KOZUKI SANEE VOICED BY MIKAKO KOMATSU
A WEB ENTREPRENEUR SANEE IS A TOKYO NATIVE WHO MOVE TO MANOYAMA TO ESCAPE CITY LIFE.
THE ANIME WILL BE AWESOME AND SUCH A GOOD ANIME WAIT FOR ANOTHER EPISODE..